From wild racoons in Leicestershire to wild monkeys on the island of Oban - there is a lot of unusual wildlife in Britain.
------------------------------------------------------------------
Britain
The Times September 18, 2006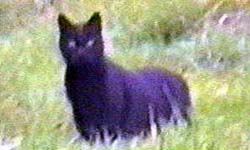 The so-called Beast of Bodmin (which was videotaped), on Bodmin Moor, sparked public interest in big cat sightings
Crocodiles, big cats and wolves: it's a jungle in the countryside
By Lewis Smith
A study of exotic animal sightings in Britain has recorded more than 10,000 claims in six years
THE number of big cats is increasing in the British countryside, according to a study of exotic animal sightings.
Almost 6,000 large, often unidentified cats have been reported stalking the landscape over the past six years. Since the Beast of Bodmin became an object of interest, public sightings have been on the rise and are now at record levels.
The big cats are no longer alone. They have been joined by a host of dangerous beasts, from wolves to crocodiles. Overall, there have been more than 10,000 sightings of exotic animals in Britain in the past six years. Many turned out to be mythical but some proved genuine. So common have sightings become that there are organisations devoted to recording and analysing them.
Chris Mullins, who founded Beastwatch UK in 2001 to compile data on wild, exotic or rare animals in Britain, said: "Since the start of our organisation the number of reports has increased at a rapid rate. We now have many members as well as people with just an interest who report and look out for wild animals across the country. It is clear the UK contains far more exotic wild animals than the British public could ever imagine."
He said reports ranged from "monkeys stolen from zoos and private collections, to colonies of wallabies and wild boar, and more unusual reports such as a chinchilla found in a postbox, to a piranha in the Thames".
The British Big Cat Society reported an increase in feline sightings in recent years, with 2004-05 figures up 3.5 per cent on the previous year. The authors of a survey collating sightings suggested climate change was a factor in the rise.
"Climate change is one of the many reasons these animals are able to live in the wild and, conversely, one of the reasons they are in danger," they said.
"Changing winds can cause damage to animal enclosures that can lead to animals escaping into the wild, whilst changing temperatures allow the animals to survive in new areas for longer. Climate change also affects breeding habits with statistics from last year showing that 63 per cent of birds nested on average nine days earlier than normal."
The South West is the big cat hotspot. More than 100 wild boars have been reported in Kent and East Sussex; Buckinghamshire and Oxfordshire lay claim to a population of at least 26 wallabies; Leicestershire is a favourite for racoons; and Oban is home to several monkeys.
The report, carried out by the American film company, Disney, added: "Brits may be astonished to learn that hundreds of wild and exotic animals, usually found in the zoo or the jungle, are sighted every week up and down the country. As a result of climate change, zoo thefts and animal escapees, it is no longer uncommon to see animals such as panthers, leopards, snakes and racoons in the UK."
Reported seen

5,931 big cats (including panthers, pumas, leopards, lynx)

3,389 sharks

332 wild boars

51 wallabies

43 snakes

15 owls

13 dangerous spiders (including a tarantula and a Black Widow)

13 racoons

10 crocodiles

7 wolves

4 eagles

3 pandas

2 scorpions

1 penguin
--------------------------------------------------------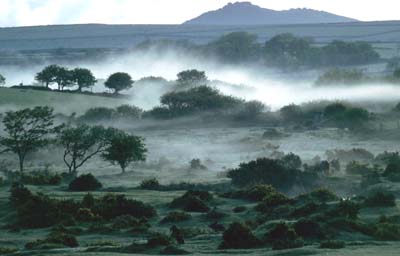 Bodmin Moor
A wild and rugged area steeped in history, Bodmin Moor has more than its fair share of myths and legends - from its strong connections to the stories of King Arthur right up to present day reports of farmers' livestock being hunted down by the Beast of Bodmin Moor.

Since 1983 there have been over 60 reported sightings of a big cat on Bodmin Moor. This still (shown near the top of the thread) taken from some video footage shows an animal which is some three and a half feet in length. Despite an inconclusive enquiry by the government many locals remain convinced that there is one or more big cats at large on the moors.

In November 1999 a squadron of Cornish RAF reserves spent a night on the moors trying to track the beast with the lastest hi-tech military night-vision equipment. Unfortunately bad weather hampered their operation, but they will be back again - the hunt continues...

The connection with King Arthur may be a bit more tenuous but nevertheless the possibilty of Camelot being in Cornwall remains a strong one.

The high windswept aspect of Dozmary Pool may not fit easily with popular romantised vision of the lake into which the dying Arthur instructed Sir Bedivere to cast Excalibur.

However little is actually known of the Dark Ages - certainly the legendary King and his knights would have not have been clad in chain mail roaming about the country on heavy horses. But in the sixth century Arthur certainly maintained a fierce struggle against the Anglo-Saxon invaders and the many stories of the deeds of the knights of the round table remain as popular today as they ever were.

Now we come to one of Cornwall's most famous ghost. On Sunday 14th April 1844, Charlotte Dymond was found murdered on the slopes of Roughtor. Her lover, a crippled farmhand called Matthew Weeks, was later hanged at Bodmin Gaol for the crime. Since that time, and especially on the anniversary of her death, Charlotte has been seen walking in the area, clad in a gown and a silk bonnet. There is a memorial stone at Roughtor Ford which marks the site of her murder and her grave lies in the churchyard at Davidstow.

bodminmoor.co.uk