A mad woman in Kent believes Grey aliens told her that England won't win the World Cup.
She has been in the news before, as this isn't the first time that extraterrestrials have spoken to her.
============================================
This is Local London.
Aliens think England won't win World Cup
By Robert Fisk
Aliens spoke to Stephany Cohen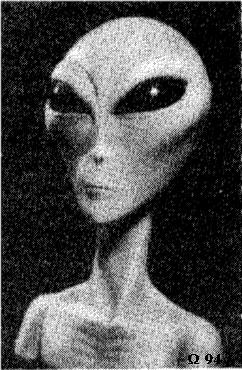 A Grey - are these creatures soccer fans?
AN ALIEN race has dashed England's hopes for the World Cup.
Speaking through former police worker Stephany Cohen, of Lancaster Close, Bromley, the Greys say England will reach the quarter finals.
But the 42-year-old says the aliens tell her the team will struggle to advance any further.
And she says they will definitely not make it to the final, which she believes will probably be won by Brazil.
Miss Cohen said: "I am sorry if it's not what the fans want to hear. We don't mean to upset any English fans but the reality is what is given."
The aliens, from the planet Sirrus D, have also scuppered hopes Wayne Rooney will be fit enough.
Apparently his metatarsal fracture will not heal in time for any games and he should be replaced by Jermain Defoe.
And the spiritual healer also says Michael Owen is not 100 per cent fit but will still play in the tournament.
She said: "The Greys see Gilberto, who plays for Arsenal, lifting the World Cup.
"England should just enjoy their run and make the most of the experience."
She added: "Their success should read win against Paraguay, beat Trinidad and Tobago and draw with Sweden.
"Everyone will take away something from it."
Miss Cohen appeared in News Shopper in March when she said she had been contacted by the spirit of former England and Liverpool captain Emlyn Hughes.
She believed he wanted to contact Liverpool FC manager Rafa Benitez.
Miss Cohen also appeared in the paper in 2003 when she reported the Greys were giving her orgasms.
The Football Association declined to comment.
Former England manager Glenn Hoddle consulted faith healer and mentor Eileen Drewery to try and help the team in the late 1990s.
Miss Cohen wants to arrange a trance medium evening. She says the Greys want to use her to talk to humans.
6:22am Thursday 8th June 2006
www.thisislocallondon.co.uk/n..._world_cup.php
(external - login to view)
---------------------------------
Quote:
The aliens, from the planet Sirrus D, have also scuppered hopes Wayne Rooney will be fit enough.
But the fact that he'll play in Thursday's game against Trinidad and Tobago, MUCH earlier than anticipated, has already proven the Greys wrong in that area.