I gotta brag a bit … my little sister Shannon just paid me a visit from Guatemala. She was down visiting 2 years ago, fell in love with the place and the people, so she went back last January. She just returned to get rid of her stuff here in Canada so she can continue to travel down there.
My baby sister!
Street in Xela
Currently she's living in Xela, about 5 hours from Guatemala City where her handsome Latino boyfriend (Abel) lives and works. When she first went down, she was going to school to learn Spanish and traveled around exploring all the nearby countries. Being adventurous and bold, she had some truly hair-raising stories about men with machetes and automatic rifles, about civil unrest, dead bodies by the roadside, about being a white person traveling in Guatemala. She also has a ton of heart warming stories about the incredible people there, the friendliness and learning to Salsa dance every Wednesday night.
Mayan Ruins
Eventually she found out about a position with Global Village (Habitat for Humanity) where she went to outlying areas to assess need. I love her stories about riding chicken busses, hitchhiking, walking, riding horses and decrepit motorbikes out to the remote villages. She then took pictures of habitat homes already built as well as pictures of families needing homes. I'll throw in a couple of those. I can't begin to imagine living the way those people do! Makes me realize how fortunate I am. Often she was the first white person these people had ever seen. Hard to imagine.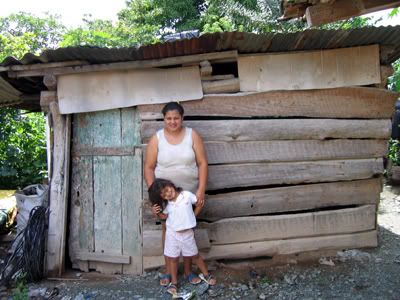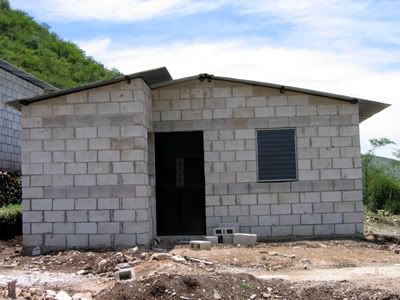 I was glad when Shan switched over to an assistant position where she's not traveling in all the dangerous areas. At least not as much. She's now working with the groups of people that come in to build Habitat homes. Since everything is on "manana" time down there and she's accustomed to the corporate world of Canada, it's a real challenge to get transportation and accommodation arranged for these people. Apparently most of the people she works with have learned not to piss off the "gringa" and she manages to get the job done quite efficiently!
I loved her story about riding with the new arrivals to their destinations, standing backward in the bus showing them the sights. Every now and then the newly arrived passengers would be frozen with these silent screams on their faces. At first Shan didn't know what was happening then she realized the bus they were in was simply passing another vehicle and the new people were unaccustomed to the crazy traffic style. Driving down there is an adventure not to be missed! Even when you're in a vehicle where all the doors stay closed.
During the recent hurricane I was worried sick about her, but she was fine. Her man (Abel) ended up stranded in Xela with her for a couple of weeks which was a nice treat for them. The two of them ended up riding with some kind of convoy transporting some important banker over back roads to return to Guatemala City. They were riding in the last of 5 vehicles and as they were passing a bus, the bus driver got mad at the convoy, pulled out a handgun and started yelling at them. One of the guards in her truck pulled out an automatic rifle and started yelling back. Problem solved. Don't ya just wish you could do that here some days????
I got to learn a few words of Spanish, learn a few Salsa steps and talk with Abel on the phone while she was here. All in all, my little sister is living a most exciting life. I wouldn't trade my comforts for it, but I do love to hear her stories! I get to experience it by proxy and that's about as close to eating beans and fighting my way through civil unrest as I want to get.