Highway will soon let regular drivers reach Arctic Ocean for first time
To hear Kevin McLeod describe it, the Inuvik Tuktoyaktuk Highway being built across a dramatic and challenging landscape to the Arctic Ocean is like a living thing.
It breathes, it sweats and, if its temperature rises too high, people get worried.
"The critical task for this whole thing is to keep the permafrost frozen," says Mr. McLeod, who is heading a historic construction project that for the first time will extend Canada's highway network from coast to coast to coast.
"We are tracking the temperature of the highway much like a human body," said the director of the Northwest Territories Department of Transportation. "Permafrost makes a great foundation if it remains frozen and that's our aim, to keep it as frozen as possible."
The route, which will bring both new opportunities and new social stresses to the North by opening a small, isolated community to the outside world, won't be completed until next year.
But a key milestone in the $300-million federal-territorial project was reached last week when two massive Cat 740B trucks – one coming from the North and one from the South – backed slowly together and dumped about 50 tonnes of gravel and rock on the tundra. That closed the last gap in a raised roadbed that snakes 137 kilometres from Inuvik to Tuktoyaktuk, across a landscape laced with thousands of lakes and streams.
Until now, the only way to drive to Tuk, as the hamlet with 950 residents is commonly called, has been over an ice road built each winter when the watery landscape and spongy tundra is frozen solid.
While the surface on the Tuktoyaktuk Coastal Plain thaws seasonally, the land beneath remains frozen, leaving a solid permafrost foundation on which to build.
But Mr. McLeod said in an interview that constructing a highway atop permafrost is a delicate and tricky business, with few examples to learn from anywhere in the world.
"This was ground-breaking building in terms of the location and the permafrost," he said. "I like to note this highway is kind of a 130-kilometre-long laboratory."
Rather than bulldozing the route, in traditional "cut and fill" road building, the Inuvik Tuk Highway features an elevated road bed stacked atop an insulating layer of synthetic material to keep the permafrost beneath it frozen. When the highway is completed, there will be 65 temperature sensors strung along its length.
"We are making sure if it gets warmer … that we are alerted to it," said Mr. McLeod.
As permafrost warms, it loses its load-bearing strength. Bridge piles, which are driven deep into the permafrost, are of key concern. If the temperature near them rises above minus three, a contingency plan calls for warm air to be siphoned off and cold air pumped into the ground.
source
Fukking Eh..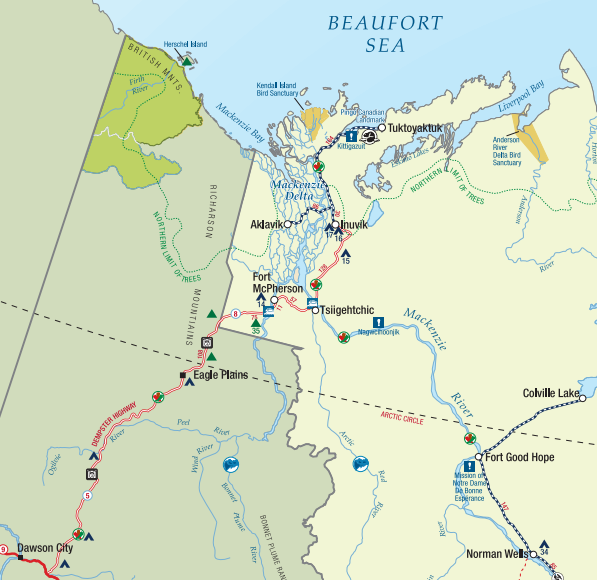 Edmonton, Alberta.. Gateway to the Arctic.