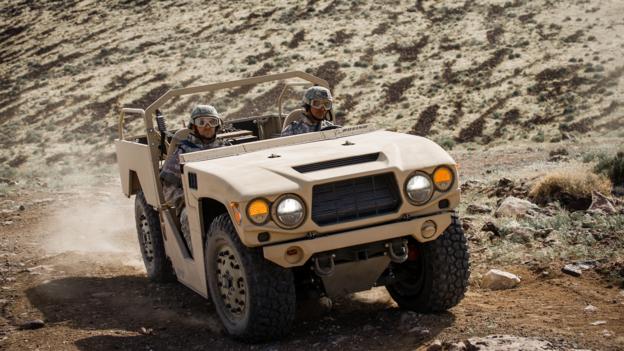 US aircraft maker and defence supplier Boeing has revisited the original jeep's winning formula in a stocky little bruiser of a car called the Phantom Badger.
Like the MB, the Phantom Badger is compact – just 60 inches wide – and, with four-wheel steering, it is highly maneuverable. The setup gives the vehicle a turning circle of just 24ft – fully 10ft tighter than a Mini Cooper's. Such agility is particularly valuable in urban environments, where the ability to make tight turns and slip through narrow alleys can change the outcome of a battle.
Vital Stats
Boeing Phantom Badger
Gross vehicle weight: 7,850lbs
Payload capacity: 3,356lbs
Towing capacity: 4,000lbs
Dimensions: 60in wide x 180in long
Engine: 3-litre turbocharged V6, multi-fuel capable (diesel or JP8 )
Drivetrain: Four-wheel drive with all-wheel steering
Fuel consumption: 21mpg
Cruising range: Approx. 450mi
And like the original jeep, which employed a version of the Go Devil L-head engine from Willys' civilian Americar line, the Phantom Badger makes use of the 3-litre turbo-diesel V6 from the Jeep Grand Cherokee. The engine – which can run on JP-8 jet fuel as well as diesel – produces 240 horsepower and 420 pound-feet of torque, sufficient to enable the four-wheel-drive Badger to reach a breezy 80mph on paved surfaces.
In designing the Phantom Badger, amid the usual military concerns for battlefield capability and occupant protection, Boeing remained conscious of such factors as mechanical simplicity, global parts availability and field serviceability. So the vehicle is light on expensive futuristic technology, and heavy on proven, commercially available hardware. It embodies, says Boeing spokesman Garrett Kasper, "the best of what's out there today – tires, lug nuts, seatbelts, you name it."
more
BBC - Autos - Phantom Badger, reporting for duty
(external - login to view)